Knights of Saint Andrew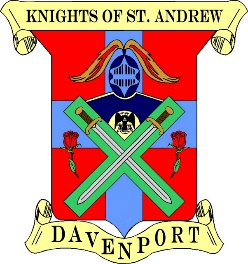 Chapters of the Knights of St. Andrew are service auxiliary clubs of 32° Masons working on behalf of all members of their Valley. Membership is exclusive to 32° "Black Hat" members in good standing of the Valley. They are under the immediate supervision of the Secretary of the Valley and provide support to Scottish Rite and other local Masonic activities where they are needed.
The responsibilities and privileges of the Knights of St Andrew – or "KSA" - vary from one Valley to the next, depending on the needs of the Valley and its membership. Possibilities are unlimited, and can increase or change as new ideas and concepts are developed to meet needs and goals. This flexibility is the key to the success of numerous chapters of Knights of St. Andrew around the nation.
In the Davenport Valley we believe that the Knights of Saint Andrew can serve the Valley by:
Providing & Facilitating Scottish Rite Education by means of discussion groups, degree readings, and other educational events around our Valley utilizing a variety of resources available to Scottish Rite members and Iowa Masons.
Degree and ritual work, including a ceremonial staff of officers for traditional Scottish Rite events and processions. We are also looking at forming degree teams for various intermediate degrees, not least of which being the 29°; Scottish Knight of St. Andrew.
Organizing social events based on traditional Scottish Rite Feasts, such as the Feast of Tishri, as well as other festive occasions that the Rite can celebrate.
Most importantly, we need to bring Scottish Rite activities to different parts our Valley, and not make participation in the Rite dependent on coming to the Davenport Masonic Center.
If you would like to participate, or if you would like to help host or organize a Knights of Saint Andrew activity for Scottish Rite members in your area, please contact the Valley at (563) 391-0665 for more information.